Posters and Prints
Toyota Variants
Limited Edition 24x36 Poster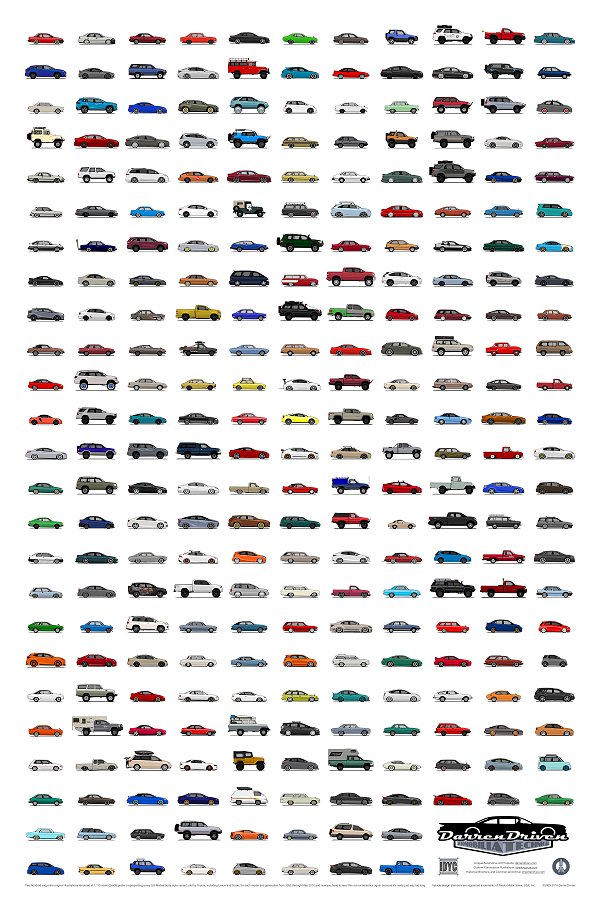 Each of the illustrations represent a unique body variant sold by Toyota in the US since 1958. Have fun spotting variants like the ultra rare RS26LV Crown Custom 2-Door Wagon or tiny Scion iQ urban commuter, to the fun 1981 Toyota Trekker or luxurious Lexus SC430 hardtop convertible. Attention to every meticulous detail in each illustration results in this masterpiece of automobilia that any true Toyota enthusiast should not go without.
* SOLD OUT *
Toyota Variants 1.0
100 Signed & Numbered Posters
1958-2018 Toyota, Lexus & Scion (265)
Thanks Jalopnik!
* SOLD OUT *

Toyota Variants 2.0
150 Signed & Numbered Posters
1958-2019 Toyota, Lexus & Scion (270)
+ Avalon, Corolla HB, RAV4, ES, UX
Toyota Variants 3.0
1958-2021 Toyota, Lexus & Scion (279)
+ Corolla Sedan, Highlander, Mirai, Sienna,
Supra, Venza, Yaris HB, IS, LC Convertible
PURCHASE ON REDBUBBLE
Toyota Body Style Reference
Limited Edition Signed & Numbered Poster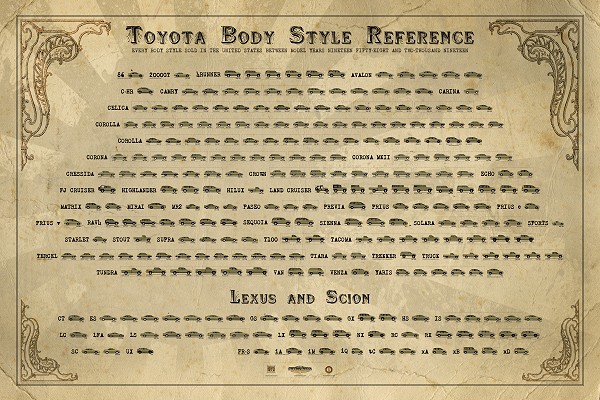 Every US-market Toyota, Lexus and Scion body style from 86 coupe to xD hatch, organized alphabetically by model and chronologically by generation, is displayed in an easy-to-read reference document that appears to have been drawn by Davinci himself. Did you know that in 1982 there were seven different Corolla body styles available on the showroom floor? Did you know that there was a third-generation Corona two-door sedan? Of course you didn't because you don't have this poster!
150 Limited Posters
270 Illustrations
1958-2019
PURCHASE ON REDBUBBLE
FJ Cruiser Reference
24x36 Limited 24x36 Edition Poster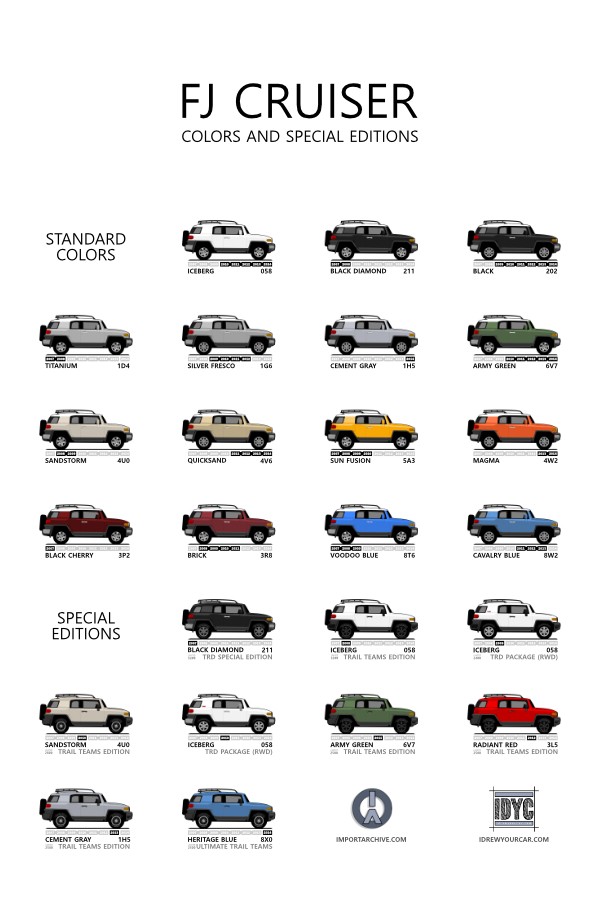 True FJ Cruiser enthusiasts have all of this memorized of course, but since I'm always mixing up the various limited editions and paint codes I made this handy tool so I'll never be wrong again.