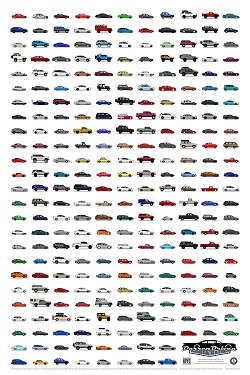 256 VARIANT OVERSIZE POSTER
Giant poster of all 256 Toyota variants sold in the US from 1958-2018. Available in two sizes and two finishes via my art blog idrewyourcar.com and my online store at darrendriven.com. $25-45 + S&H (USD).

42,190 PAGE SCANS
from my collection of 2180 brochures dating back to 1958, all hand-scanned and free for your enjoyment or high-resolution download.

PAINT CODES
Comprehensive paint code information, both current and historic, with photo galleries and touchup paint shipped right to your door.

SPECIFICATIONS
High-resolution scans of specification pages from just about every brochure ever printed including dimensions and engine specs.

TELEVISION ADS
Thousands of TV ads ranging from the 1950's to the present to help you kill precious time until you head home on a Friday afternoon.
VEHICLE PROFILE ART
Original technical art available on dozens of products from framed prints and posters to coffee mugs and mousepads.