47,576 PAGE SCANS
from my collection of 2445 brochures dating back to 1958, all hand-scanned and free for your enjoyment or high-resolution download.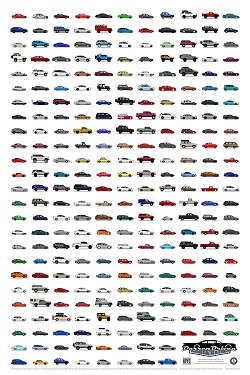 TOYOTA VARIANTS POSTER/PRINT
24x36 limited-edition poster signed and numbered by the artist, or 13x19 frame-quality photo print. Extremely detailed illustrations depict all 269 Toyota, Lexus and Scion body variants sold in the US from 1958 through May 2018 (includes 2019 Avalon, RAV4, Lexus ES and Lexus UX)

9409 TV AD SPOTS
78 hours of TV ads from the 1950s to the present. Want to see a random car commercial right now? Your wish has been granted...
complete list of every archived ad

PAINT CODES
Comprehensive paint code information, both current and historic, with photo galleries and touchup paint shipped right to your door.